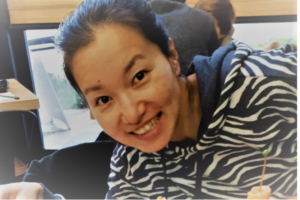 My name is Kana Kudo. I am very thrilled to join the team at Wesbrook Preschool. I initially started by acquiring both Basic Early Childhood Education license as well as the Infant/Toddler & Special Needs license. I also earned my bachelor's degree in Psychology of which I have been able to apply throughout my career. I have since accumulated 10+ years happily working with children and families in a professional capacity. I enjoy everyday learning for and with children through play by experimenting, sharing, counting, singing, dancing, chasing, reading, making a mess (creative art), sometimes crying, and anything else you can think of! The objective of all these exercises is to develop important life skills for a child. Everyday is a learning moment for myself, children and families. I have a passion to provide quality early childhood education, and I'm always eager to grow and excel as a quality educator.
In addition, I am recently learning kids yoga in my free time. I like to play sports, especially basketball, I also enjoy hiking and karaoke.
I greatly appreciate this opportunity and I am excited to work with all of you! Please feel free to talk to me regarding Wesbrook Preschool. I look forward to getting to know you all, and I am excited about the days ahead.