Wesbrook is a place where children gain rich experiences in all areas of early development in a safe environment.
Our program at Wesbrook Preschool is based on a balance of:
big muscle play and quiet activities
self-directed and adult-guided activities
indoor and outdoor activities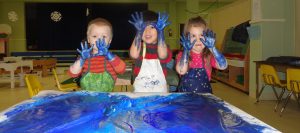 The program is flexible based on the needs and interest of individual children and as a group. Children are encouraged to explore all of the centers in the classroom, including an "Open Art Area," at any time during the class.   Our teachers continually keep the children interested with monthly themes (e.g. space, dinosaurs, animals, etc.) and surprise activities.
4's Program Information
Children must be 4 years of age before December 31st of the school year
Mondays to Thursdays 1:00pm-4:00pm (3 hours)
Parents do not stay with children (unless volunteering that day).
4's Program Schedule
(Subject to change, depending on weather and season)
| Time | Activity |
| --- | --- |
| 1:00pm | Children arrive at Trimble playground, outside play |
| 1:45pm | Get back to preschool, bathroom |
| 2:00pm | Circle time |
| 2:30pm | Art activity and free play |
| 3:00pm | Clean up, wash hands, bathroom |
| 3:15pm | Snack |
| 3:30pm | Circle time |
| 4:00pm | Pick up |
Bring own snack (fruit and vegetables only)
The 4's program offers many opportunities for creating, exploring, experimenting and social experiences. We also have plenty of indoor large muscle equipment such as climbing frames and jumping tubes which are used frequently, especially on rainy days.
Our teachers plan activities for the children as well as facilitate spontaneous learning through play so that the children may validate new ideas, expand their knowledge, and encourage problem solving. An idea or theme can capture their curiosity for a few days or sometimes extend over the course of a month. Our curriculum is constantly evolving and builds on children's interests, strengths and needs, helping them become more effective learners.
Starting in October after children are familiar with the teachers and the environment, we go on regular field trips. These include a visit to a local fire station, the pumpkin patch or gymnastics classes at UBC. In May and June we spend Tuesdays at Locarno beach.
We also try to incorporate seasonal and cultural topics where we encourage whole family involvement.
4's Program
$440.00
per month
$110 annual registration fee
snack – fruits and vegetables
4 years of age before December 31st
Monday – Thursday 1:00pm – 4:00pm
No extra fees other preschools traditionally charge